I had such a great day today! I went punting for the first time with the Jurisprudence gang, as a farewell to Visa who is returning to Finland on Wednesday. We met at 2pm at The Mill, and Raffael utilised his punting membership thing and got us a punt. Raffael appeared to plan for everyone to take turns punting, but Josh objected ('I am a scholar!' he said) and I played the gender card, conceding for that specific circumstance that I was of the weaker sex.

We eventually punted to Jesus Green - Raffael first, then Visa who did really well for his first time, and Jyr-Jong. It was so hilarious when we punted along King's College and some geese that can typically be found in the area started following our punt. Raffael and I began feeding them some baguette, which made them come even closer to the punt. Josh was terrified and I couldn't stop laughing at his reaction; he grabbed the paddle from Jyr-Jong and threatened to use it to chase away the geese, but Raffael and I objected to his threat of use of force. He switched sides with Jyr-Jong and ended up on my side, but the geese appeared on my side of the punt when they realised that I had food for them. It was quite cute when they made this low guttural sound, looked expectantly at us, and almost craned their heads over to the punt. I was a bit nervous about possibly being bitten; the geese were quite big! But nothing life-threatening happened.

Shortly after we arrived at Jesus Green, it started pouring! The heaviness of the rain was reminiscent of the torrential downpours that are typical of a rainy day in Singapore. Visa, Jyr-Jong and I hid under a tree while Raffael and Josh stayed on the punts, beneath umbrellas. Thankfully, the weather cleared up after some time, and we hung out on the river bank for a couple of hours, drinking some alcohol, eating bread and hummus, some crisps, and olives. Good conversation was had. Josh went on his spiel about the Commonwealth and how the United Kingdom has abandoned the Commonwealth and is cheating on the Commonwealth with the European Union. I started feeding some ducks and it made me very happy. We also took this picture: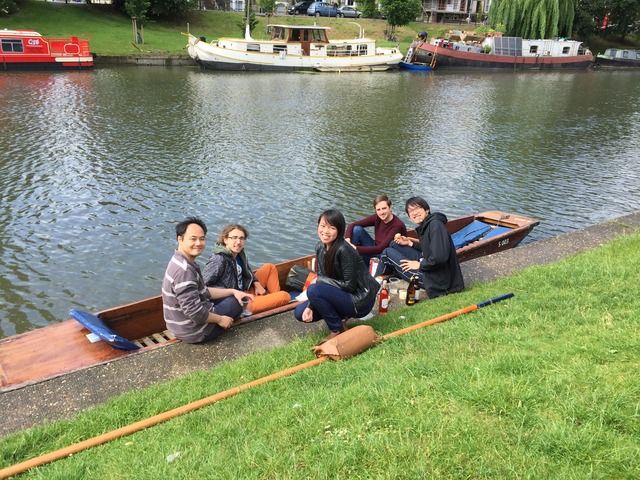 At about half five, Jyr-Jong punted us back to the Mill. Josh appeared to have had too much to drink because he started singing Disney songs. It was hilarious, especially when we went past other punts and the people on board stared at us in a manner that suggested that they did not know what to make of this scene. This scene, that is, of three men and a woman (excluding our punter) singing Disney songs and laughing. I did most of the laughing. We ended the sing-along session with Celine Dion's 'My Heart Will Go On' (which Josh called 'Every Night in My Dreams I See You and Feel You'). We went under a bridge and someone on the bridge sang along with us.

What a day. We sat on the grass along the river for about an hour. I stepped on some cow shit but it actually doesn't smell, so I guess it's okay. I chatted with Jyr-Jong, who is Taiwanese, about various things; I liked that he knew who Tsai Ming-liang is. He told me about his wife's giving birth, the death penalty in Taiwan, and the political situation in Taiwan. It was a good chat.

Visa, Raffael and I had dinner at Thaikun, and now I am back, writing this with some difficulty due to a slight spinning of the head as a result of the alcohol I drank. I shall go to bed soon.

Cambridge is so lovely when it is spent with awesome friends. I feel really happy to have found a nice group of people to hang out with; it is too bad that Visa is leaving already.

*

Prague was also lovely. I will write more about it when my head is not spinning. In brief, I loved the historic sights, the cheap food (I did a lot of research and so we did not go to a crappy restaurant until the last meal, which was unplanned), the cheap drinks, the beauty of the Old Town, the sharp contrast of working class, ex-Communist Zizkov, and that I spent my trip with a very lovely boy. I did not like the tourists at all, however. The weather was also not as bad as was forecast; it rained a bit but the sky cleared up really quickly, so nothing was ruined. I really enjoyed the trip.

*

My viva is next Wednesday at 11am. I also did not get the scholarship. Prof Simon C emailed me after I received the official rejection email, and I was really unlucky in that there were a few applicants this year, two of whom are Sheridian Fellows with first class honours; last year, there was just one applicant if I'm not wrong. If they had been able to give out three, I would have gotten it. I was quite upset when I found out (I was in Prague) but I am okay now. It's just too bad, I guess. The more important thing is that the possibility of an appointment in NUS is still alive. I was afraid that being rejected for the scholarship would mean that I couldn't get a job there, but that is not the case, so I am pleased about that.

I am also very grateful to my parents for supporting me financially. Dominic is quite right to say that this would serve as a strong motivation for me to focus on the PhD; I am spending their money and so I want to make it worth their while. It is even more of an incentive to do well than spending someone else's money. For now, though, I will concentrate on getting past the viva. I am quite worried, but that's what I do, so I guess there's nothing new there.