I had a scrumptious meal of 4 bananas and 4 mandarin oranges for dinner today. I was too stressed out about tomorrow's viva to go to town to get a posh cheddar baguette from Pret en route to the law library, so I took with me whatever fruits I had left in the kitchen. I wanted to stay till about 10pm, having reached the library only at 3pm, but I left at 10 minutes to 9 because I was tired and I didn't know what else I could do. I'd already read my paper twice, the shitty outline once, even read the bits of the paper that I discarded. I am still terrified about tomorrow's viva, but I've done whatever I can; all that's left to be done is hope fervently that my brain doesn't desert me tomorrow and that I can answer the questions as well as possible. All that being said, I am definitely excited about the fact that, this time tomorrow, I will be done with the viva.

This is quite honestly one of the most terrifying things I will ever have to do in my life, at least up till now. But then, I thought the same about giving presentations, and I survived those three occasions, so I guess I will survive the 1.5hours (or so) of grilling that I will be put through tomorrow. Dr P (my other supervisor) was around the library today and I went up to him and announced that my viva is tomorrow, thereby goading from him the reassuring words that I wanted to hear. He said to go in relaxed and enjoy the discussion. I will try to remember that as I try not to freak out.

Okay, enough about that. On a lighter note, I brought Dominic to the Graduate Law Society Finale Ball at Madingley Hall on Sunday. Some pictures were taken: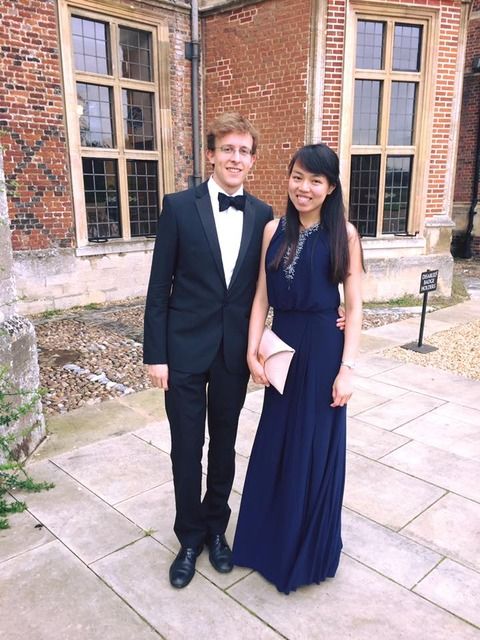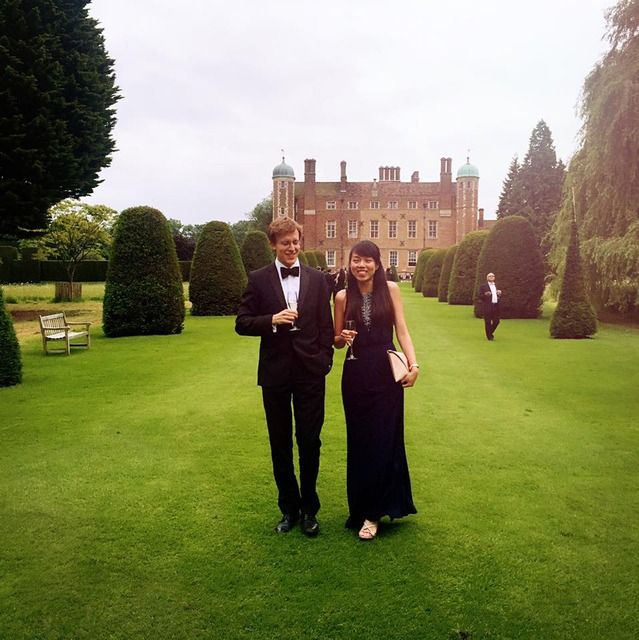 I really like the second picture even if my face is a bit weird in it. The event was just a fancy dinner in a fancy hall 10 minutes from Cambridge. I bought and wore a long dress for the first time ever in my life. It was definitely too long, but I didn't really bother taking it for alteration and I thought it would be fine with heels. It was, more or less, but I had to wear my highest and most uncomfortable heels which made walking really difficult. On the bright side, I only paid 80 quid for the dress. I got it for half price on House of Fraser. Yay!

The dinner was okay. My usual group of friends didn't go, so I talked to the girls from the PhD whom I don't hang out with enough. I liked the starter, but it was two pieces of breaded camembert (basically brie) and some vegetables, which was a bit too heavy for a starter. I really did not like the main course though; it was butternut squash stuffed with herbed vegetables and goat's cheese. The stuffing was nice but not the squash. It even came with some potato thing, which was nice, but mixed with the starter, everything was a bit too much. I liked the white wine but the red was underwhelming. I skipped the dessert wine, having drunk too much of the exact wine the day before at the Law PhD garden party in St John's.

There was some jazz band and attempted dancing after dinner. The attempted dancing was awkward and weird. It was nice talking to people, especially Visa and Guo (Alex's girlfriend), but wasn't the most fun night ever. I had more fun at the garden party the night before where Dominic met Raffael, and Josh was around, and so was Barry. Josh kept pouring me this sickly sweet dessert wine and I ate only a quarter of a sandwich and a third of a wrap, so it went down quite quickly. Having some alcohol buzzing in my system made making small talk rather easier, I must say. Anyway, it was a fun night. Too bad the English weather decided to conform to its stereotype; I had to keep my denim jacket on the whole time and thus ruining the look of my new Warehouse dress. Ah, how terrible.

*

I've finished watching Battlestar Galactica. The series finale was so shit. I think I want to re-watch Buffy again. Maybe I will do just that.