OMG I WANT TO BE WRONG ABOUT MY PREDICTION SO BADLY RIGHT NOW.

I CAN'T STAND THIS STRESS FOR ANOTHER SET.

ROGER BROKE BACK WHILE MURRAY SERVED FOR THE THIRD SET.

THE MATCH IS ON HIS RACQUET.

TAKE IT ROGER TAKE IT.

*

OMG OMG OMG OMG.

YESSSSSSSSSSSSSSSSSSSSSS.

I HAVE NO WORDS. ROGER FEDERER IS A GENIUS. I HAVE NO WORDS. 16TH GRAND SLAM. OMG. WHO DOES THIS. OMG.

*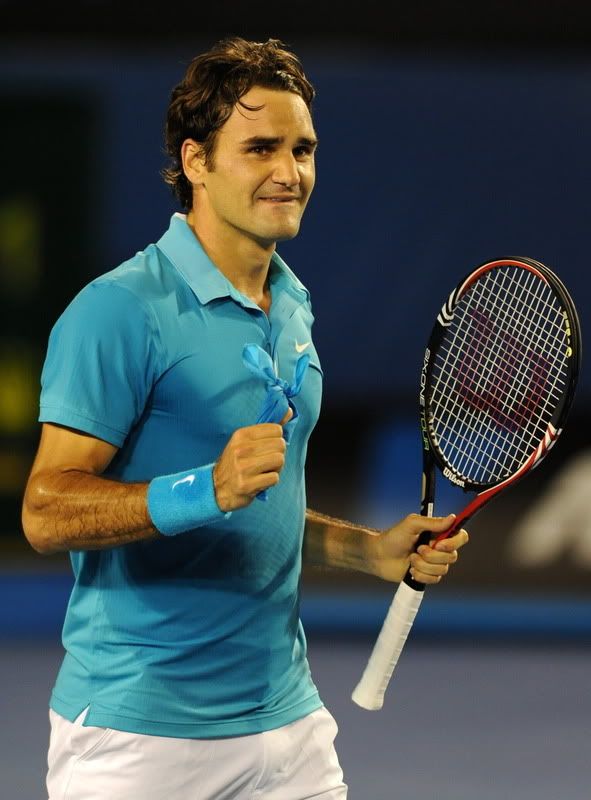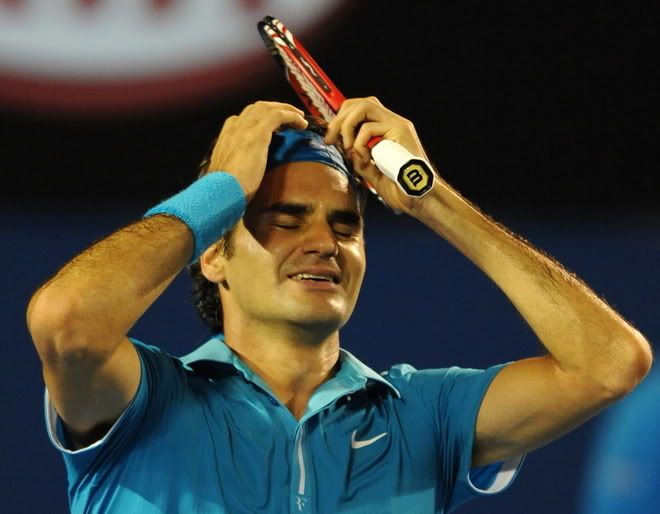 Can't find a picture of him and his 4th Australian Open yet so I'll save that for later. As per usual after a victory, especially a Grand Slam one, his site is going crazy and I can't get in. Oh well.
Thoughts:
1. This is prime time for him to win the calendar slam. Him winning the first Slam of the year is keeping that dream alive - and I very much want him to do it before he retires.
2. His tennis. His tennis. I have ran out of words to describe his tennis. The impossible angles, the unassailable winners, the perfect touch volleys. I don't even know what to say anymore. He's just - he's GodFed. One forehand up the line landed right smack in the corner of Murray's side of the court, and all I could think was, "I couldn't even do that in my dreams."
3. That third set, though, was an absolute nail-biter. He got himself broken midway through after saving two break points - was down 0-40, got the score to 30-40, but got passed by Murray at the net. I thought, "Shit, it's over. I don't want a fourth set." I DEFINITELY would've died sitting through a fourth set. I know watching tennis is supposed to be enjoyable, but it's more nervous and scary than anything when you're 100% emotionally invested in the outcome. And that third set - thankfully he broke back. Thankfully he held serve to take it to a tie-break.
4. The tie-break. I HATE tie-breaks involving him 'cause every single frigging point counts and my nerves just can't take such stress (I didn't eat anything until 7.30, when the match was over, 'cause I can't eat when I'm nervous and I was nervous as hell). When Murray got the early mini-break, I braced myself for a fourth set which I vehemently did not want; then he got the break back, but went on to do some crap shit thing which I can't remember at the moment to give Murray TWO. SET. POINTS. He was down 4-6. 4-6. Luckily for Roger, Murray choked one of them away - think he missed this super textbook forehand up the line, and he had the court wide open. I think that point is going to come back and haunt him later tonight.
5. As if those 2 set points weren't enough, Roger went on to give Murray 3 more set points. Murray had five chances to take this set - but he couldn't. All Roger needed was two match points to take the title, but I swear, on his first match point, his shot selection had me yelling at the TV. It was on his serve. He hit a perfect first serve, received a feeble return, then could've smacked a forehand winner down to the open court. But what did he choose to do? HE CHOSE TO PLAY A FUCKING DROP SHOT. A DROP SHOT. Murray, to his credit, ran for his life and squeezed a fucking winner past Roger. Oh my god, I nearly died. I wanted to throw something at my TV. What a moment to choose to be cute.
6. Thankfully he clinched it on his second match point or else I'd just...I don't even know. I'd still be hyperventilating right now. I'm just glad it's over, and happier that he won. Like the US Open 2008 final, the match was won by Murray dumping the ball into the net. To be honest I was hoping for a double fault on Murray's part but I'd take that too, obviously.
7. Murray shouldn't feel too bad about the five set points that he lost. Djokovic had seven set points in the US Open 2007 final and still lost to Roger in straight sets. Bad luck for them, and all other players, to catch him on a good day. 'Cause when he's playing like that, no one can beat him.
8. Poor Murray though. He cried. He actually cried. Even I had to feel bad for him. He really tried towards the end of that third set and made Roger work for the win. He started crying in the middle of his speech when he was thanking his supporters, and made himself more likeable to me when he said, "I can cry like Roger but too bad I can't play like him."
9. The problem with Murray, really, is his passiveness. He needs to step up and take charge. Roger took complete control of the second set and it could've been 6-2 if he hadn't missed the forehand down the line on break point. The commentators, once again, commented on Murray's passiveness - which was something Roger pointed out yonks ago. He can play aggressively when he wants to, but he doesn't, and that's why he's not winning on the big stage. I think he lucked out with the Cilic semi-final (you just need to see the stats to know that Cilic choked that away), definitely lucked out with Nadal and his knee problems in the quarter-final, but to win against Roger, he has to be the one calling the shots. But he's never the one doing so. The reason I hate his game is because he wins by waiting for his opponent's errors - and that's one hell of a boring tennis match to watch. I was tired of the long rallies in this final and wanted the points to be short, snappy, fast. Too bad Roger couldn't volley much (though to be fair he's a natural baseliner above everything else), but on the bright side, many of the long rallies were won, not lost. So I guess in that regard it wasn't so bad.
10. It's sweet 16 for Roger. It's hardly conceivable, let alone believable - but there you go. He did it. First father ever to win a Grand Slam. And just months ago people were wondering if he was done and dusted.
11. I think this is clear: never count him out. He'd always be the favourite to win when it comes to the Slams.
12. I don't even care if he only wins 4 titles this year as long as all 4 of those titles are Grand Slams.
13. 23 consecutive semi-finals. 22 Grand Slam finals. His consistency is shocking. I don't think people realise how immensely difficult it is to play at such a high level for such a long period of time. He's freaking 28 and he's just won another Slam. It's not a stretch of the imagination at all to postulate that he's going to win 20 before he retires.
14. That said, I miss seeing him fall to his knees upon converting championship point as if he's been stung by a bee though. Winning so many Grand Slams has taken the novelty of the occasion away from him yonks ago.
15. But still - I am SO damn happy.
16. Fittingly, I shall end this entry on Point 16 with this: