Paris, le deuxième jour

I woke up at 10. That was really late. I set my alarm for 8 but I really couldn't get out of bed.

I had a quick breakfast at the patisserie across the road from my hotel: a eclair au chocolat and a pain au chocolat. They were both very yummy. Then I took away a flat white from the cafe just down the street where I originally wanted to have breakfast before deciding that I was not - I repeat, NOT - going to pay 11 euros for a fucking toastie. The coffee was not good at all.

I went to Saint Germain where I located the Delacroix museum. These art museums really need explanatory notes in English. I understand that the French are possessive of their Frenchness, but it doesn't hurt to be a bit tourist-friendly, does it? Throw people like us a bone, please; 'people like us' being someone like me who likes French art and some aspects of French culture. Of course, ideally I would be fluent in French, but alas, I am not (not even close), and while I can make out some French words, it is not enough to fully understand the explanatory notes accompanying the paintings.

The museum is converted from Delacroix's former house in Paris. It was really small and there weren't that many interesting things, if only because I didn't understand their significance. It was interesting to learn that he was a huge fan of Hamlet though, and Romeo and Juliet to a lesser extent. There were some lithographs of scenes from Hamlet, and Juliet's death scene.

This was my favourite painting, and it wasn't even painted by him: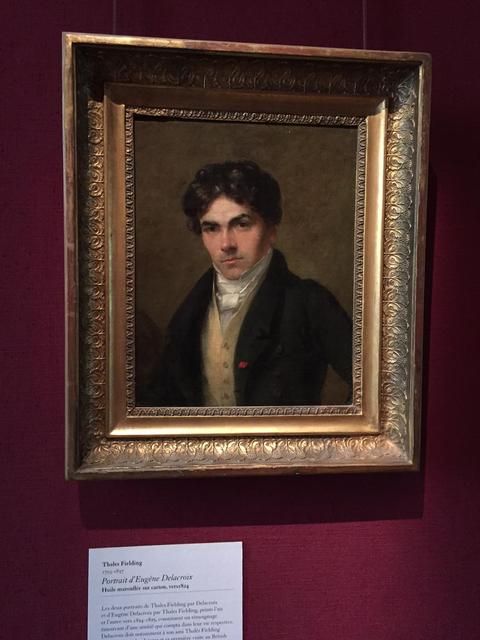 If that was really what he looked like at that age...whew, what a hottie.

There was also a garden: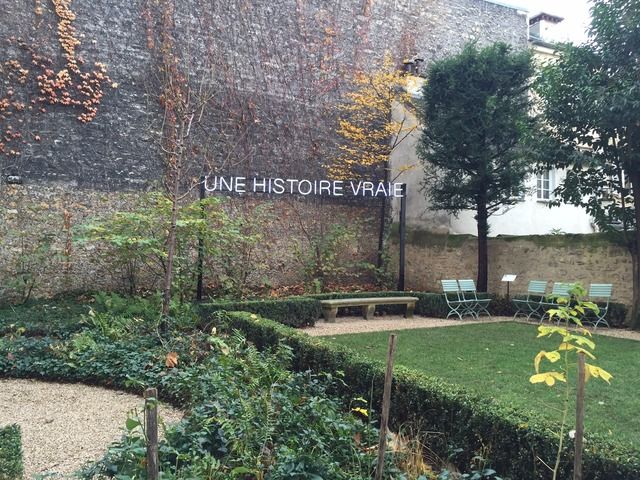 After this, I spent an hour and a half walking around the neighbourhood, looking for lunch. It was an entirely arduous task. I have been vegetarian for the past couple of months, and I didn't want to stop being vegetarian, and so I was looking for somewhere that served decent vegetarian food.

Fuck my life, I'd never known how difficult it was to find vegetarian food in Paris. During my previous four trips here, I ate fish and so it was easy to find food. But now? I walked for an hour and a half, even circling the same area a few times. I saw a crepe place that had vegetarian crepe (galette?) but it was full. I almost went into an Italian vegetarian restaurant but I stopped myself because 1) I really didn't feel like having pasta; and 2) I really, REALLY didn't feel like paying 18 euros for pasta.

That reminds me: how the hell is food so expensive in Paris? Perhaps more surprisingly, why do I not remember this? Or is it more the case that food prices have gone up in the two years that have passed since I last visited? I mean...11 euros for a toastie. 18 euros for pasta. 2.80 at least for an eclair! I remember a time when an eclair cost 1.80! Okay, that probably in Montmartre, and that was also 8 years ago, but still!

In the end, I went into the first French place that had the word 'vegetarian' on the menu and I had a vegetarian gratin: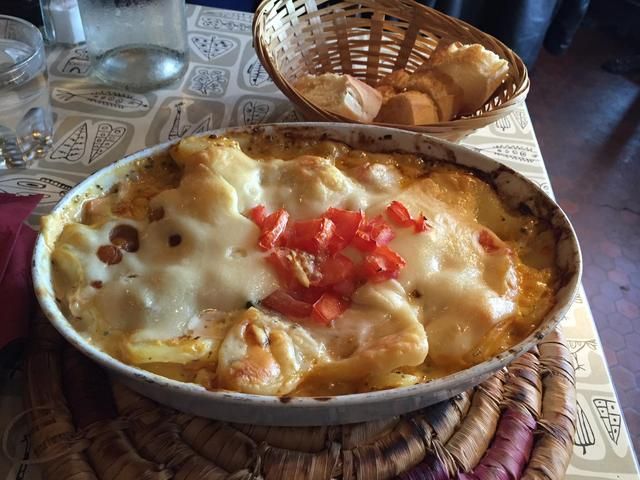 This bistro was along the main road (I think it was Quai de Conti) and was dark inside; it was neither glamorous nor hip. The woman - presumably the proprietor - spoke little English, but ironically had a soundtrack of classic English-language songs. But she offered vegetarian food, and I was getting hungry, and it was only 10 euros, and so I went in and ordered.

The massiveness of the gratin is not reflected in the photo, but trust me when I say that it was huge. There was just no way I was gonna finish it. But it was actually really yummy: the cream sauce was sufficiently garlic-y, the tomatoes added a nice sourness to the dish, and the potatoes...well, were potatoes. The cheese wasn't that great but it was still okay.

I ended up eating more than half of it, but unfortunately I didn't finish it. I felt like telling the woman that it was delicious but too massive, but I wasn't sure how to say it in French, and so I didn't.

Later, I checked out an eclair shop (Genie something) because I love chocolate eclairs. I was actually offended when I saw what it was all about: 'artisan' eclairs with all sorts of weird-ass flavours, and they were like FIVE FUCKING EUROS EACH. What?! Why would I want to spend 5 euros on a weird fruity eclair when I can buy two traditional ones with the same amount of money? That said, I would've tried one if it'd been half the price, though I would've stuck with something that's close to chocolate.

So that was a bust. I then walked to Rue Descartes in the Cluny/Sorbonne area to check out a tea shop that was recommended by someone on Like a Local. I was pretty disappointed. I ordered a chocolate cake which became less and less tasty as I ate it, and the coffee was bland. But it was still a cute place; the woman didn't speak much English. I was pleased that I understood that she asked if I wanted lunch, and that I could tell her what I was after by just saying 'cafe' and 'gateau'. Ha! I only didn't know what the third dessert on offer was, but clearly understood 'chocolat' and also understood 'citron'.

She had a really cute dog, too: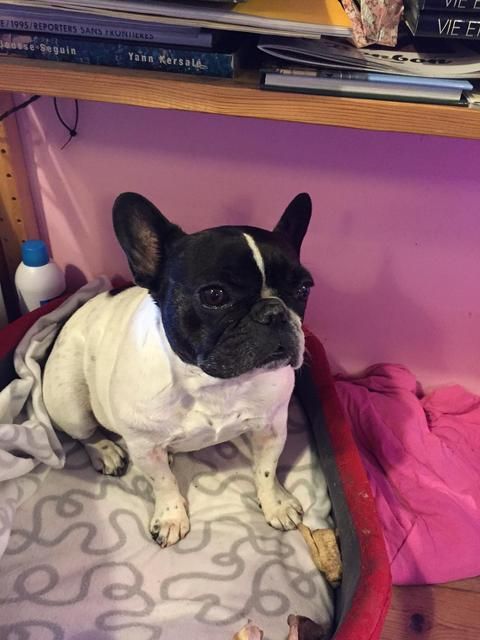 What was really interesting about the place, though, was the incongruous heavy metal soundtrack. I say 'incongruous' because the cafe had pink walls, really girly flower-shaped fairy lights, and had a very homely and even granny-ish atmosphere. So hearing the random wailing/screaming-singing of heavy metal bands was rather jarring. It definitely put me off my Virginia Woolf, and so I read A S Byatt's The Matisse Stories instead (so brilliant, by the way).

After cake/coffee, I walked to Saint Michel. I bought a bag and a scarf from Naf Naf. I had 30% off because I wore a dress. That was really the only reason I bought two items, and they came up to 56 euros which is quite cheap. I walked to the Shakespeare & Company bookstore, but not before stopping by the newly-opened cafe due to my burning need to pee. I sat down outside opposite a girl with a bowl of soup, and 10 minutes later, she started talking to me, and we entered into a nice conversation. She was really friendly; she was Mexican working in the US, and so didn't have a Spanish accent. She was waiting for her husband to get to Paris from the airport. I was shocked when I heard that she was married; I thought she was 22 or something. We are now Facebook friends as she thought it was better for me to have someone to contact in Paris in case something happened, seeing as I am here by myself. How nice, right? That was really pleasant.

I went to a burger joint for dinner somewhere in Etienne Marcel. The only reason I went there was because they have a vegetarian option. It was tasty: a piece of portobello mushroom with caramelised onion, some cheese, sundried tomato and some cocktail sauce. The guy who took my order gave me free fries. Aw!

I ended off the day with a cocktail at the Experiment Cocktail Club. It was my first time ever having a drink by myself. I kept busy with my book and it was all right, but drinking is definitely not something that I would enjoy doing by myself unless I'm on holiday and it's a good cocktail bar. My drink was nice but there was unfortunately a piece of celery in it. I hate celery.

I am really tired so I shall go to bed. I am going to the Musee d'Orsay tomorrow, a.k.a. the main reason I came to Paris. Excited!

Oh, and it's quite clear that apart from the high culture, I am a fucking food tourist. I plan my itinerary according to where I want to eat and have coffee. But then, what else is there to do in a city, right? That reminds me - need to find a decent lunch place between the Musee de l'Orangerie and the Orsay tomorrow. I have already found a cafe.