AFter six long years of keeping my hair long, I finally got tired of it and made the earth-shattering decision to cut it short: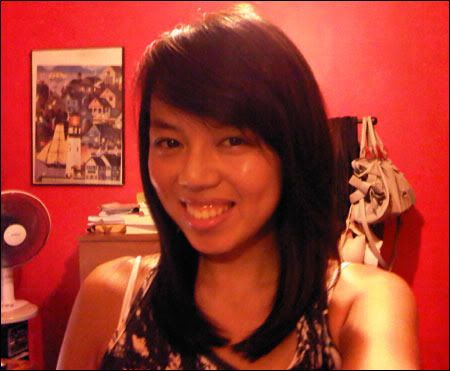 Actually, I thought I agreed on a longer length with the stylist but I guess he went a bit overboard with the chopping off of my hair. I'm not complaining though - while I feel weird not being able to run my fingers through my hair (to disentangle the knots that form at the ends), I'm moderately pleased with the kinda-new look, if only because I'm honestly quite tired of myself.

*

I vow to never eat an hour before I play tennis ever again. I had lunch at 12.50 p.m. and went off for tennis at 2, and I was totally dying throughout. I hadn't felt that bad physically in a really, REALLY long time, not even the last time I ate curry before I played tennis and then felt like my stomach was on fire the whole time. Today was just pathetic and really, a waste of time, since I didn't get to do anything, all because of how freaking tired I felt after 10 minutes. At one point I even felt nauseous.

Bleah.

I did play with the wall after my partner had gone though, so now I'm seriously tired.

I love tennis, but it's still so hard to play.

*

It's much easier to watch though, and so I'm gonna get up at 3 a.m. today to watch the Legg Mason final between Marcos Baghdatis and DAVID NALBANDIAN!!!!!!!!!!!

I'm so happy he's back. I watched the highlights of the match between him and Marin Cilic and I was enthralled by his shot-making. Incredible stuff! He's way better than his #117 ranking and I really hope he gets back to the top of the rankings, where he belongs, sooner than later.

I hope he wins the final! I like Baggy too but definitely like Nalby better.

*

I watched Au Revoir Taipei last night. It was really cute and I really liked the light-hearted sweetness of it all.

Lastly, it's Roger's birthday today! I totally forgot until I saw his message on his website.

He's 29!