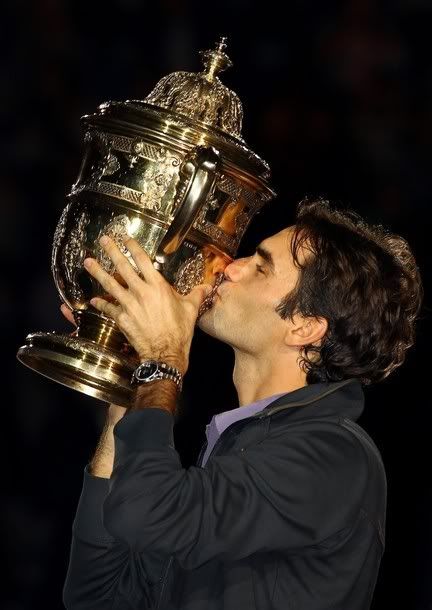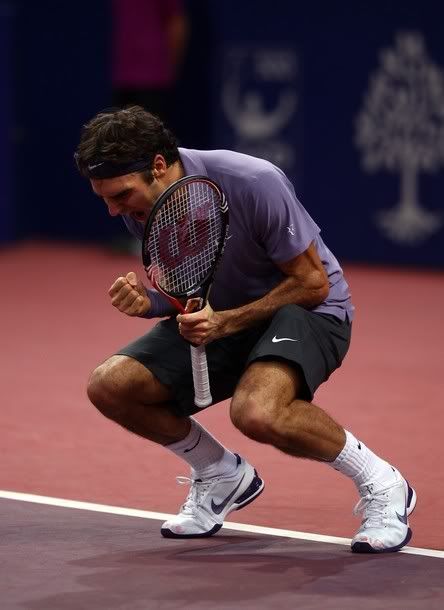 That was his reaction after he made his backhand winner on championship point. When he scored himself 3 championship points with an AMAZING touch volley, his reaction was epic too: a fierce fist pump that almost took on a Nadal-like quality, capped off by a roar of adrenaline and delight.

I love that this medium-sized tournament held in Basel, Switzerland continues to mean so much to a man who has won 16 Grand Slam titles, 16 Masters titles, 1 Olympic gold medal, and who holds the most impressive records (consecutive 237 weeks at #1; 23 straight semi-finals in grand slams). An ATP 500 tournament doesn't really matter to Roger anymore. At his level, the most important titles are the grand slams.

But he was so ecstatic when he won, he almost reacted as if he'd just won a slam. I terribly miss his falling-to-the-knees-as-though-stung-by-a-wasp routine after clinching championship point in grand slams, so his squat of victory, as evidenced above, did me a favour in reminding me of his grand slam routine. He did say that Basel still means a lot to him. I definitely saw that with my own eyes tonight.

I missed the first set as I was out with Wei Chuen and missed most of the second set. The latter was fine since Roger lost it, but I'm definitely going to watch the first set, which my parents recorded for me, at some point. The third set was strange - first, Roger opened with an easy service game; then, he sought to attack Nole's serve, except he did it SO BLOODY BADLY. He had the right ideas but the execution was WOEFUL. He had an easy put away at the net and it certainly looked to me like a routine smash; but in his haste, he hit the ball way out of the court, thereby looking something like a shot that I would make because I suck at tennis.

I was quite worried for him after that point (the previous point was also stupid - he hit his forehand long after he chased down a Djokovic drop shot that didn't do much. In my head I was screaming, "FUCKING HELL, ROGER, IT DIDN'T HAVE TO BE THAT GOOD!") but thankfully, he was solid on his service games, and perhaps more importantly, Nole went into meltdown mode. I have no idea what happened to him - maybe he was scared of Roger, maybe he overcompensated for Roger's aggression by upping the tempo and thus making too many mistakes; whatever it was, he double faulted on break point, much to my delight. Funny thing was, before he hit his second serve, I wished really hard for a double fault in my head - and Nole did not disappoint.

Then Roger forced two more break points on Nole's subsequent service game, and then he was serving for the title at 5-1. He was absolutely flawless. He wasn't about to relinquish his lead and let Nole back into the match. Above all else, he played with purpose, with conviction, with authority, and you knew that he wanted it, there and then, let's not waste any more time.

He finished it with a glorious backhand winner. Finally, he rules at home again.